Hints for students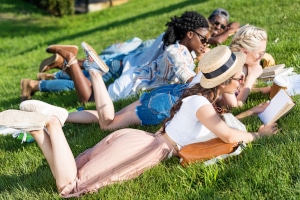 A lot of students and apprentices get hold of a credit to finance their studies or apprentice ship. After completing the studies they are confronted with high sums that have to be paid back. In addition to that appear costs like health insurance premium contribution, cost of living and other costs. The principal expense factors are the federal student loan, other student loans, health insurance, rent and additional cost of living. Follow this link to the PDF Download 

1. federal student loan (BAföG)
a) after completing the studies
repayment possible in little rates
if you decide to pay back the sum all at once, the burden will be significantly lower
the repayment has to be carried after five years according to the maximum duration of promotion
repayment can also be started directly after the studies
for more information click on the brochure on the right side
Tips:
don't choose too high rates as the burden could be too high – just after the studies can appear additional costs like apartment, health insurance etc.
borrow money from your parents or use savings eventually to pay back the federal student loan all at once or for the most part – then the total sum will be significantly lower (50 %)
if you get a little salary, it is possible to apply for the exemption of the repayment
if you are married, have got children or are living in a registered partnership it will increase the income limit of the exemption
Attention: only the maximum of 10,000 Euro has to be repaid, that's why it is sometimes not worth paying it back all at once especially if you claimed promotions of over 15,000 Euro.
b) after dropping out of the studies
when deciding for a change in subject area after at the latest three semester you still receive the promotion out of the federal student loan (BAföG), only if there is an acknowledged reason for the change for example lack of eligibility or change in leaning
dropping out of the studies means that you have no claim on the federal student loan (BAföG)
repayment is possible after five years according to the maximum duration of promotion
Tips:
there are limits to 10,000 Euro in repayment and possible exemptions see "after completing the studies – tips"
don't choose the rates too high as other financial burdens can queue
2. KfW student loan
a) after completing the studies
similar to BaföG you can choose also a waiting period for the repayment, up to 23 months after the last payment or completion of the studies
in contrast to BAföG it has to be repaid in the whole sum
interest rates of 6,5 % are due
like with every other loan too, it has to be dealt with additional fees that are added to the credit level and interests
for more information click on the brochure on the right side
Tips:
unscheduled payments are possible, changes concerning the plan of repayment are possible only within a determined time window
don't choose the rates of repayment too high at the beginning, these can be modified later if necessary
make use of the waiting period, that can be shortened also later
Careful: note the periods for changes in the process, payments – these end mostly several months before the actual changes take place and then the can't be modified anymore for several months.
b) after dropping out of the studies
payment of loan ends immediately
you can and should make use of the waiting period for the paying-off
Tips:
note the periods and keep an eye on them – changes can only take place within a determined time window and come into force later
don't choose the rates too high due to numerous and other new cost expenses
3. Other student loans
next to the Kfw student loan, the arrangements for other student loans can vary
Tips:
in general it is recommended to study carefully the conditions and to note the flexible possibilities of repayment like begin of paying out with the first income and waiting period
the possibilities of paying out and repayment should have the ability to be modified ant any time, as unforeseen changes during and after the studies can appear
You should also take an eye on to the interests and fees, only these could mean a high monthly burden
The German student union recommends not to finance the studies only through a loan
Attention: Don't ever drop out off your studies to get rid of your debts, the studies are an important investment into your future and if you drop out before the promotions are left out – repayments have to be carried out straight away, the situation gets even worser in all areas
4. Health insurance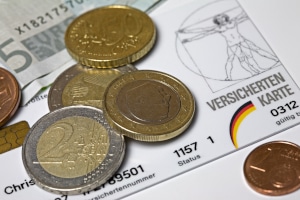 if you are not insured within your family health insurance, the costs for health insurance come to under 100 Euro every month during the studies
if you find a job straight away after leaving the university these costs are divided between the employer and the employee – though they are substracted from your gross income – therefore you don't take care of the payment
if you are on the dole you don't have to pay the costs for the health insurance
Careful: Working as a freelancer puts you into the position to take care of your own health insurance – these costs can come up to over 300 Euro monthly – an additional significant burden
Attention: The following particularities in side jobs and student side jobs
a lot of students work as employees or freelancers next to their studies and receive an additional income with the promotion of their parents federal student loan
the cheap student tariffs of the health insurance are based on a low income
if you get hold of a higher income through side jobs (e. g. through a fulltime job in the semester holidays, freelancer activities or other side jobs ) and it exceeds the base of computation – the demanding sum will increase
the increase of the health insurance premium contribution is carried all at once and then you are asked to repay everything retrospectively – if a student has worked for six months and has earned very well but paid the low contribution the whole time – he will have to pay the debts all at once to the health insurance.
if you get in touch with the health insurance beforehand you can agree cheap rate payments
Tips:
if you get into financial trouble you should get in touch with your health insurance beforehand – on many occasions rate payments are possible
if the health insurance premium contributions are not paid and you don't get into contact with the health insurance – attachment of debts can occur – these should be really avoided
even if you drop out of the studies you should get in touch with your health insurance and clarify the future insurance conditions – often cheap alternatives are possible
eventually you could think about affiliating to the private health insurance with cheaper contribution rates – although you should examine the costs and insurance very carefully beforehand
5. Additional costs of living
after completing their studies the majority of students and apprentices are looking for an own apartment – the communal residence or parental home will be left
Having an own apartment means the carriage of extra costs that aren't shared with others – for example rent, electricity, gas, television, running costs, technical equipment, radio and television licence fee, food etc.
public transport in connection with the student season ticket can't be used anymore for free – the costs amount to over 50 Euro or more monthly
to that are added great single purchases, repair costs, consumer expenditure for clothes, technical equipment, holidays and other purchases
These costs are often underestimated, hire purchases are carried out and the danger is high to loose the overview very quickly. Debts arise before beginning your professional career
What to do to avoid debts? General hints
To get rid of a pile of debts at the beginning of the working life or end of studies/apprentice ship students and apprentices should keep always an eye on their finances. The following can be of great support:
create a budget with all the earnings and a summary about all expenditures
avoid hire purchases
gross borrowing from bank only it it is really necessary
the studies shouldn't be financed predominantly through a loan
in case of side jobs or side earnings clarify beforehand, how these react with the taxes and the health insurance
don't ever think about dropping out of the studies to repay the debts – the studies/apprenticeship should always be treated with priority and stands for an important investment into the future
if possible make use of a scholarship to finance the studies, plus scholarships of universities (in that case you should inform yourself about all possibilities and chances)
a frequent reason for debts is the existence of a pregnancy, following separation and the activity as single parent – if no support can be expected through family or relatives you really can get into financial trouble
Money shouldn't be spent always in the same way – it is recommended to set up savings in case bigger repairs on washing machine, car or similar have to be carried out or other unforeseen events take place
What is to do if you don't find a way out of the debts?
In that case you should get in touch with a debt counsellor. He will develop a special repayment plan so that you can get on top of your debt problem. Federal states and local authorities offer public and free advice centres. In addition exists the possibility to go to private advice centers on debt counseling. Although they are liable to costs.